Patented Air
Conditioner Protection System
Don't lose your cool
We are the trusted safeguards for your AC unit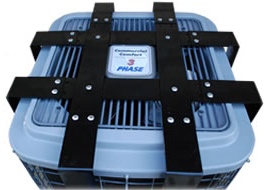 AC Securing Systems
in Michigan
Bandit Securing Services, LLC is a Michigan based company offering an air conditioner protection system.
Protect your AC from vandalism & theft. Our products are designed to protect the unit.
Throughout the United States, there has been a significant rise in cases of robbery and theft. Air conditioners can be sold for scrap or re-sold on the black market.
That is why it has become an easy target for thieves. Many thieves are stealing air conditioner units and selling them for scrap value.
What is the solution to this problem?
AC BANDIT™ air conditioning protection system is here to solve the problem.
Protect Your AC Systems From Vandalism
Imagine waking up to extreme heat, finding that your air conditioner has been vandalized, and all the copper and steel parts have been stolen.
To replace the whole air conditioning unit, it will cost you around more than $2000. Our affordable AC protection system, AC BANDIT™ can protect your AC from Vandalism and helps you save your money.